Risotto a way of life here on WGC. I've been obsessed ever since week #2 of culinary school and I'm still going strong! Today is all about this summery Tomato Risotto (but news flash – I've developed it so you can make it any time of the year!) 
Here's the deal with risotto. It looks impressive. It sounds fancy. Feels lux. But in reality, they are really easy to make and don't require too many ingredients or time.. Whenever we do a risotto for dinner, that's it! The whole kit and kaboodle. Mayyyybe a salad. Maybe.  
You guys know I've been obsessed with ordering all the Italian things from Delallo the last few months. My pantry is the definition of stocked when it comes to pasta, olives, olive oil, and condiments. Delallo has all sorts of goodies that would be great on this board. I used their San Marzano Tomatoes because, that felt right. They are picked and packed at the height of ripeness so you can get that Italian tomato vibe no matter what time of year.  I keep cans of them stocked at all times for this risotto or any other sort of tomato based sauce that I make!! Have at it!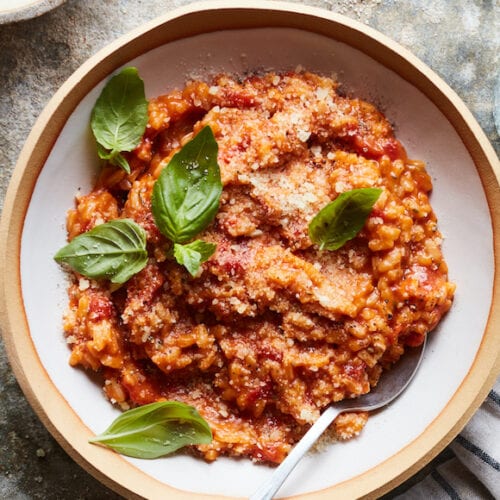 Tomato Risotto
One of my favorite risottos loaded with tomatoes, zucchini, cheese and basil – it feels like summer but you can make it any time of the year!!
Ingredients
2 1/2

cups

chicken stock (or vegetable stock)

10

ounces

Delallo San Marzano Tomatoes, crushed

2

tablespoons

olive oil

2

shallots, diced

1 1/2

cups

shredded zucchini

4

cloves

garlic, roughly chopped

1

cup

Delallo Arborio rice

1/2

cup

dry white wine (anything but an oaky chardonnay)

1/2

cup

Parmesan Cheese

1/4

cup

Mascarpone Cheese

kosher salt and tons of freshly cracked black pepper

fresh basil to garnish
Instructions
In a medium saucepan, combine the stock and tomatoes and heat over low heat until just warmed through. 

Heat the olive oil in a large skillet over medium high heat. Add the shallot and sauté until translucent. Add the zucchini and garlic and cook until softened. Add the Arborio rice to the skillet, making sure to stir it around in the olive oil so that each granule is coated with it, and toast it for about 90 seconds

Add the white wine and stir the rice until all the wine has been absorbed and then start adding the stock mixture 1/2 cup at a time, making sure not to add more until the previous addition has been absorbed

Once the rice is just tender, add the cheese and combine. Remove from heat and season with salt and pepper. Serve with basil and cheese on top.