I'm all about easy dessert recipes that you can whip up at a moment's notice. Whether you're making something for a dinner party, a school bake sale, or you just want to bake a few chocolate chip cookies after dinner, there's something here for everyone. From all the chocolate desserts you could dream of to homemade ice cream, here are 70 easy desserts that do not disappoint!
Cookies
Cookies are an integral part of my life, so I've taken it upon myself to nail the classics, like the best chocolate chip cookie recipe, sugar cookie recipe, and oatmeal cookies. And a little life hack, make a double batch, roll the cookie dough into balls and keep half stocked in the freezer, so you'll always have freshly baked cookies ready at a moment's notice.
Butterscotch and Chocolate Chip Molasses Cookies
The Best Chocolate Chip Cookies
Oatmeal Chocolate Chip Cookies
Lemon White Chocolate Chip Cookies
Coconut Chocolate Chip Cookies
Brownies
Making homemade brownies from scratch is so simple. I've got a bunch of foolproof brownie recipes, but if you're looking for one to blow all of the others out of the water, it's my slutty brownies, hands down.
Chocolate Chip Cheesecake Brownies
Double Chocolate Mocha Brownies
Chocolate Desserts
Chocolate lovers, this section is for you. All of these recipes are absolutely delicious, from a caramel chocolate cake to the most decadent skillet chocolate brownie pudding that you must make.
Caramel Drenched Flourless Chocolate Cake
Double Dark Chocolate Muddy Buddies
S'more Butterscotch Caramel Dump Cake
Double Chocolate Chip Banana Bread
Gooey Chocolate Crinkle Cookies
Cookie Bars
What's better than a giant cookie bar?! Not only are cookie bars so easy to make, but they're always a crowdpleaser. Try making the caramel apple cheesecake bars, or the snickerdoodle blondie bars, and you'll be amazed. And can we settle the center piece or corner debate once and for all? The center pieces are, without a doubt, THE BEST.
Chocolate Butterscotch Salted Caramel Blondies
White Chocolate Chip Blueberry Blondie Brownies
Caramel Apple Cheesecake Bars with Streusel
White Chocolate Marshmallow S'more Chex Bars
Snickerdoodle Blondie Brownies
Cake
Cake recipes fit for every occasion, from birthdays to breakfast. I've got it all on deck, my mom's tried and true carrot cake recipe to a delicious chocolate cake recipe to a streusel coffee cake recipe. There's truly something for everyone.
Yogurt and Honey Olive Oil Cake
Chocolate Chip Streusel Skillet Breakfast Cake
Triple Layer Pumpkin Chocolate Chip Cake
Slutty Brownie Cake (Triple Layered!)
Mixed Berry Lemon Drenched Cake
Saigon Cinnamon Streusel Coffee Cake
Fruit Desserts
From peach cobbler to an apple galette, these fruit desserts are the perfect way to use up any leftover fresh fruit.
Blueberry Skillet Cobbler with Ice Cream
Peach Blackberry Skillet Cobbler
Lemon Poppyseed Loaf with Yogurt Glaze
Strawberry Blueberry Shortcakes
Ice Cream + Frozen Desserts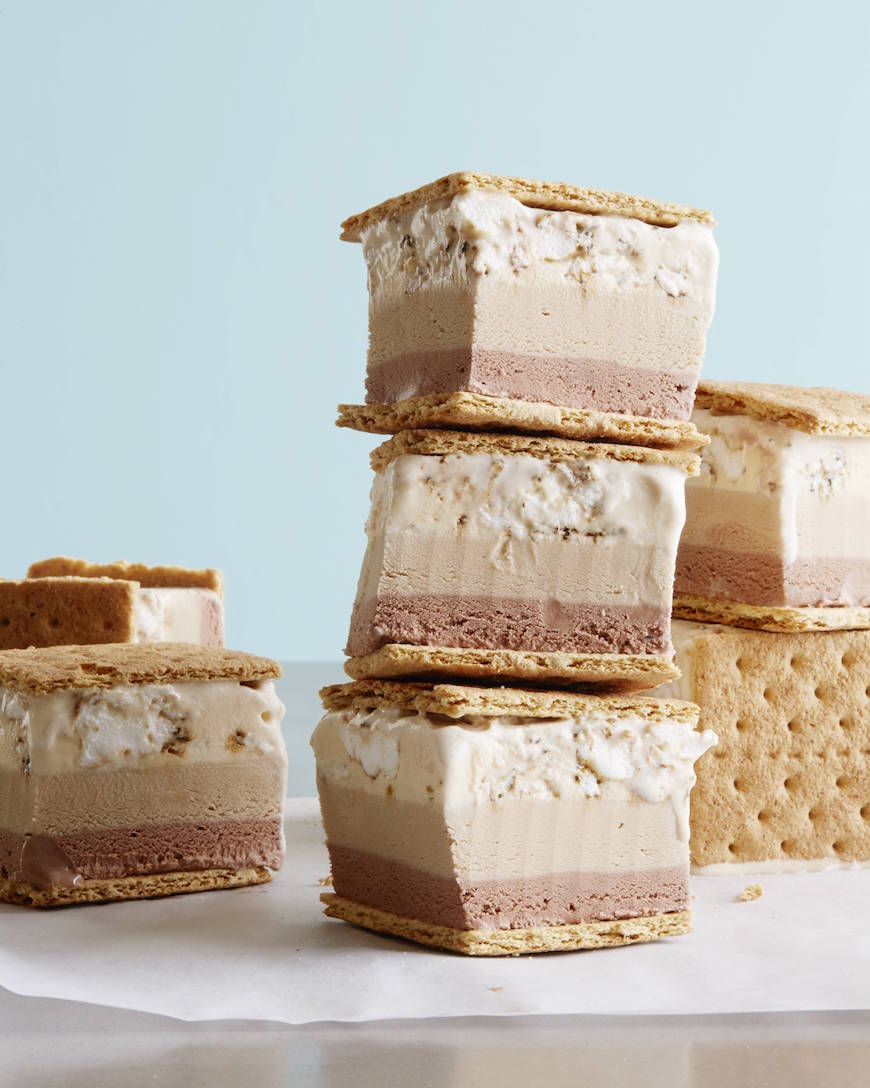 Making homemade ice cream is super easy. And it's a fun activity to do with kids. From ice cream sandwiches to ice cream sundaes, these frozen desserts are the perfect treat.
No Churn Blueberry Mascarpone Ice Cream
Strawberry Cheesecake Ice Cream
Caramel Brownie Ice Cream Sundae
Chocolate Icebox Cake with Caramel Drizzle
Salted Dark Chocolate Chip Cookie Ice Cream Sandwiches
Pies + Tarts
The best pie and tart recipes from key lime pie with a pretzel pie crust, to a classic banana cream pie.
Salted Chocolate Tart with Kettle Chip Crust
Banana Cream Tart with an Oatmeal Cookie Crust
No Bake Desserts
These are the recipes for those days when you need a quick and easy no bake dessert. Some of my favorites include tiramisu and these thick and chewy Rice Krispies treats.
Browned Butter Thick and Chewy Crispy Rice Treats
Double Dark Chocolate Marshmallow Mint Chex Bars
Coconut White Chocolate Muddy Buddies
Coconut White Chocolate Chex Party Mix
White Chocolate Marshmallow Popcorn Treats
Dark Chocolate Dipped Potato Chips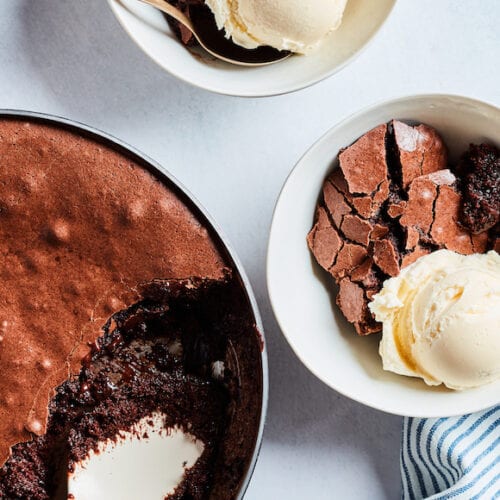 Easy Desserts: Chocolate Brownie Pudding
The most decadent delicious chocolatey dessert known to man… Chocolate Brownie Pudding! Recipe adapted from the Queen of all things food…. duh… Ina!
Ingredients
1

cup

unsalted butter

4

large eggs

2

cups

white sugar

3/4

cup

dutch cocoa powder

1/2

cup

all purpose flour

3

teaspoon

vanilla extract

2

teaspoons

coffee extract (optional)

Vanilla ice cream

for serving
Instructions
Preheat the oven to 325 degrees F. Lightly butter a 9 inch skillet.

Melt the butter and set aside to cool.

Sift the cocoa powder and flour together and set aside.

In your mixer, beat the eggs and sugar on medium-high speed for 5 to 10 minutes, until very thick and light yellow. After 10 minutes, reduce the speed to low and add the vanilla, coffee extract, and the cocoa powder and flour mixture. Mix very slowly until everything is just combined. Slowly pour in the cooled butter and mix again just until combined.

Pour the mixture into the skillet and place it in a larger baking pan. Add warm water to the pan until it comes halfway up the side of the dish Carefully place it into the oven, making sure not to slosh the water around and bake for 60 minutes.

When it's time to take it out – don't fear – it's absolutely going to look like it's under-baked. (that's normal) Remove the skillet from the water and place in the fridge to cool. Serve in the skillet with ice cream on the side.