Spicy Bacon Fried Rice – the easiest way to use up all those random veggies in your fridge and leftover rice that's been sitting around a few days too many!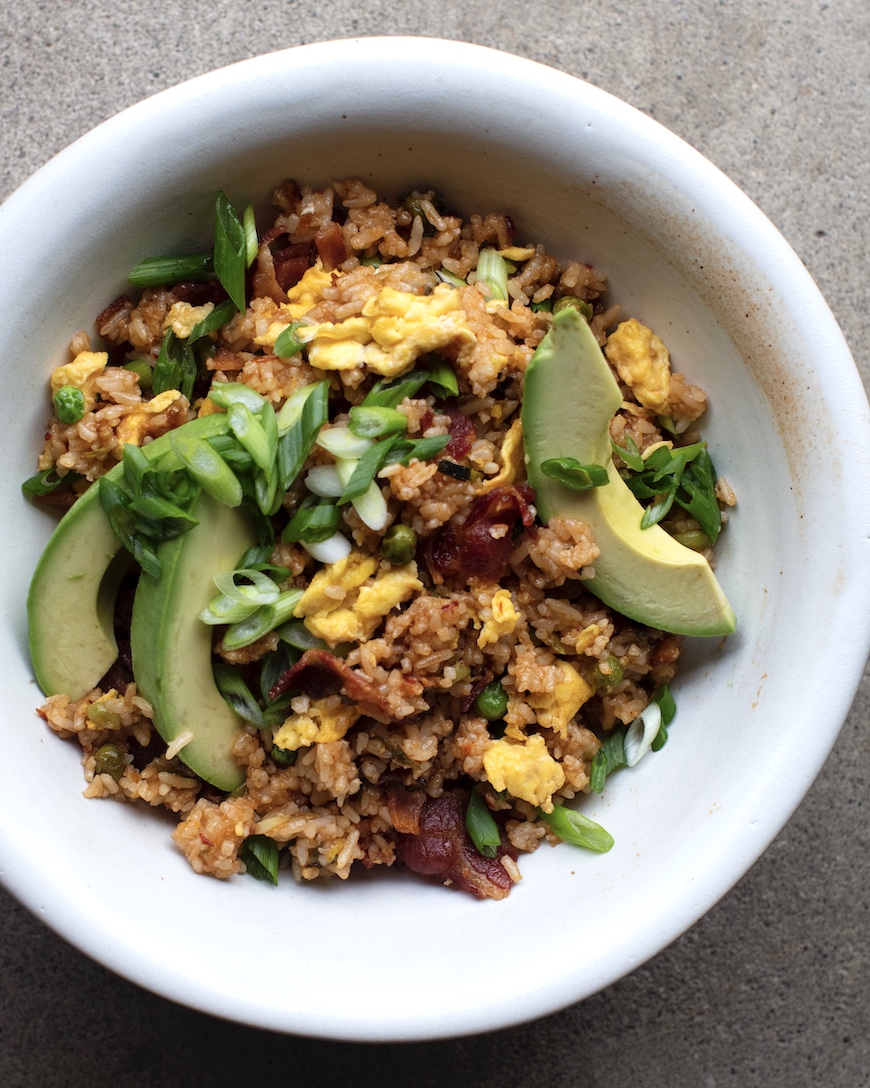 Last week on the podcast someone called in to ask about what to do with all the leftover rice / bags of rice they panic bought at a few weeks back and it occurred to me that we didn't have a fried rice recipe here on WGC! Clearly that needed to change as Fried Rice is something I made probably once every week or two.
Fried Rice is the easiest way to use up 1: leftovers veggies in your friend 2: random rice that didn't get eaten a few nights before and 3: some of your pantry staples that stare at you in your pantry. It's filling, incredibly flavorful and Thomas absolutely loves it.
Below you'll see my recipe but truth be told… it's more of a formula than a recipe. For example: if you don't have peas, that's cool! Just add some chopped leftover veggies of whatever is in your fridge!
Ingredient Swaps for Fried Rice
Bacon / Pancetta
Frozen peas / Frozen Corn / Frozen Broccoli / Frozen Carrots
White Rice / Brown Rice
And feel free to add any fresh veg when you're sautéing in step 2! Asparagus tips, diced onions, quartered artichoke hearts, skies the limit!
Spicy Bacon Fried Rice
This Spicy Bacon Fried Rice is the perfect way to use up a little leftover rice and whatever veggies you have in stock!!
Ingredients
8

slices

bacon

3

tablespoons

sesame oil

4

cloves

garlic, chopped

1

bunch

green onions, sliced

1/2

cup

frozen peas

4

cups

cooked white rice

3

tablespoons

soy sauce, plus more to taste

2

tablespoons

rice vinegar

2

tablespoons

sambal or Sriracha

2

eggs, beaten

1

avocado
Instructions
Cook the bacon until crispy, let cool, then tear into small pieces.

In a large non stick skillet over medium heat, heat sesame oil. Add garlic, green onions and peas and cook, stirring, until green onions are softened and peas are warmed through, about 3 minutes. Add cooked rice and toss to combine, breaking up any clumps. Let the veggies and rice cook until slightly browned, about 6 minutes

In a small bowl, stir together soy sauce, rice vinegar and sambal. Pour mixture over fried rice, then add bacon and stir well. Scrape rice to one side of the pan and pour eggs into the other side; stir immediately to scramble the eggs as they cook. As the eggs begin to scramble, stir rice into eggs. Taste and season with more soy sauce and/or Sambal, as desired

Serve with avocado and extra green onions if desired.