Let's just pretend that you're given a private plane to go anywhere in the world to go on a food adventure… where would you go? For me… it's an easy answer…. PERU!
I've been eyeing Peru for years now and I can't wait to get down there and experience all the amazing food culture. But, since I'm not getting a private plane anytime soon, the next best thing is working with products from Peru… like avocados!! I mean, you knew that was coming right?
Avocados are a HUGE deal in Peru and they are freaking delicious. To celebrate that fact, I'm bringing you these avocado tostadas. Pretty much it's the most delicious salad in guacamole form on a fried tortilla. What more could someone possible ask for!?! Layered with guacamole, tomato corn salad and a cilantro vinaigrette and then topped with shredded cheese… I could absolutely eat these every night if allowed!
So while we all work on planning our trip to Peru and consuming our weight in Avocados from Peru… let's make these Avocado Tostadas!!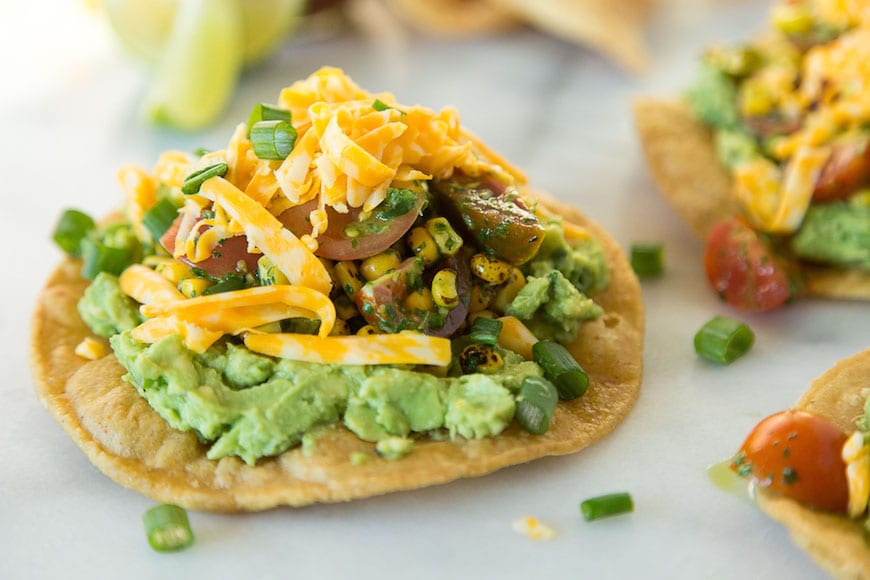 Peruvian Avocado Tostada
Ingredients
4

small corn tortillas

1/2

cup

vegetable oil

4

Peruvian Avocados

3

green onions

roughly chopped

1

lime

juiced

1

lemon

juiced

Kosher salt and freshly cracked black pepper to taste

1

cup

charred corn

1

cup

halved heirloom cherry tomato

½

cup

shredded colby jack cheese
For the Cilantro Vinaigrette
1

shallot

roughly chopped

2

cups

tightly packed fresh cilantro leaves

stems removed (about 4 ounces)

1

clove

garlic

1/2

teaspoons

red pepper flakes

1/2

cup

olive oil

2

tablespoons

red wine vinegar

1

teaspoon

salt
Instructions
In a skillet, heat the oil over medium high heat until almost smoking. Add the tortillas into the oil, one at a time, and fry on each side for about 1-2 minutes until golden brown and crispy. Remove with tongs and set aside to dry on a paper towel. Repeat process with other corn tortillas.

Cut the Peruvian avocados in half lengthwise. Remove the pit from the avocado and discard. Remove the avocado from the skin and place the avocado flesh into a bowl. Add the chopped green onions, lime juice, lemon juice and season with salt and pepper. Mash until half chunky and half smooth and then set aside.

Combine the corn and cherry tomatoes and top with 3 tablespoons of the cilantro vinaigrette.

To make the cilantro vinaigrette - combine all the ingredients for the vinaigrette in a high powered blender and blend for 60 seconds until very smooth. Taste and adjust salt and pepper as needed

To assemble, slather equal parts of the avocado mixture on all of the fried tostadas. Top with equal parts of the tomato and corn mixture and a sprinkle of shredded cheese.