Now that we're all aware of what Garlic Sauce is… we're making Garlic Sauce Pasta! Obviously.
It once upon a time had a different name, but times change, we're growing, learning and moving forward it's only going to be referred to as Garlic Sauce Pasta from here on out. Also because we cannot control the way google terms show up in your search results, this might show up as something else but know that we are working every day to SEO garlic sauce. xx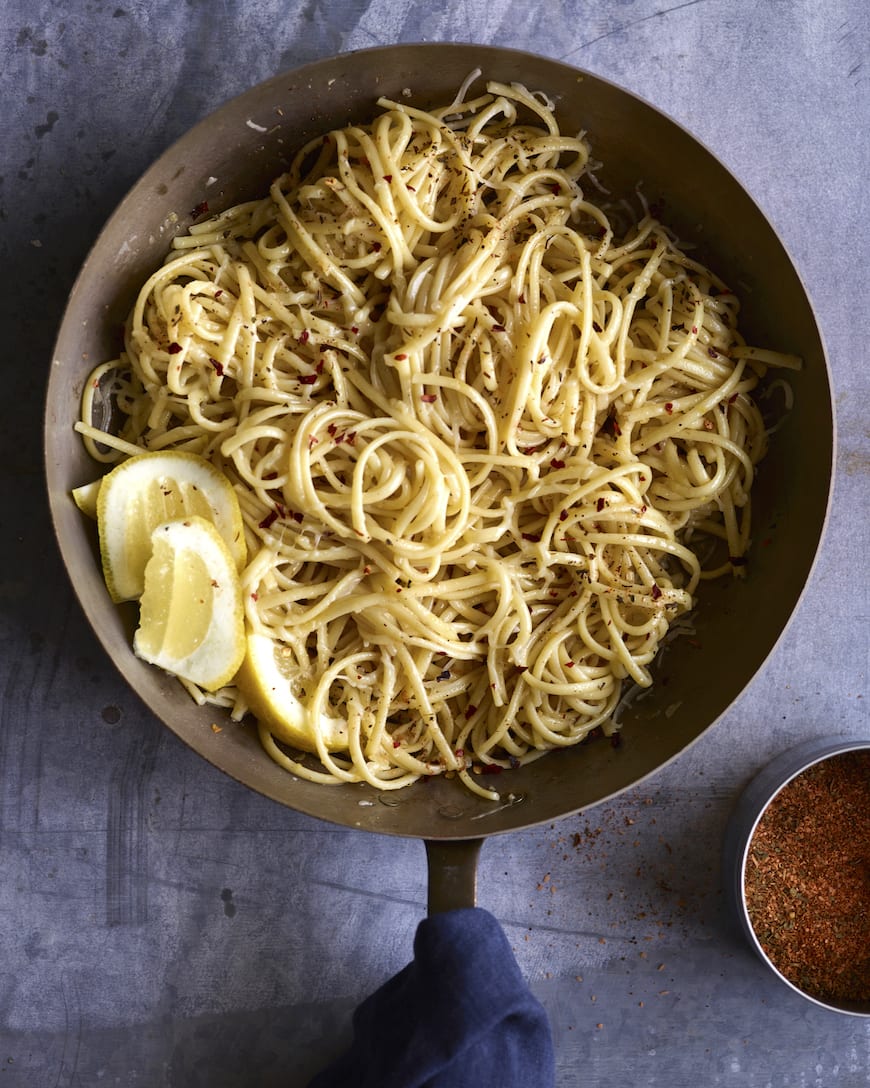 I made Garlic Sauce Pasta a few weeks back on insta-stories on a whim because I hadn't had dinner and it was 9pm and I needed something stat. Hanger (hungry + anger) was setting in!  Naturally I reverted back to my 7 year old self and made the pasta I would order on Tuesday nights at Italian Night our country club. Side note – that sounds so much more snobby that it actually is I promise.
All the adults would get fancy pastas and I remember vividly walking up to the pasta station and knowing exactly what I wanted. I wanted an olive oil sauce with tons of garlic and lemon and cheese. That's it. I'd add extra salt and pepper once I got back to my fam and then HOSE it down. Let's just take a minute to reminisce about the good old days when I was playing like 3 hours of tennis a day and swimming every morning and could eat 213108293 lbs of pasta a day and still be a string bean! Anyways… I've upped the ante, added my new Go-To Seasoning blend for maximum flavor and life is look pretty good!!
Garlic Sauce Pasta for those nights when you're in a rush and you just need something dependable… let's do this! Garlic Sauce is LIFE
Garlic Sauce Pasta
The best quick and easy pasta dish that is super inexpensive and satisfies any carb craving!!
Ingredients
1/2

cup

garlic sauce (recipe below)

8

ounces

linguini

3/4

cup

shredded mozzarella

kosher salt and freshly cracked black pepper to taste
For the Garlic Sauce
1

cup

olive oil

10

cloves

garlic, finely minced

1

tsp

red pepper flakes

1-2

teaspoons

teaspoons Gaby's Go To Seasoning

1

whole

lemon, zested
Instructions
Cook the pasta according to the package directions.

Drain and add the garlic sauce and mozzarella.

Toss to combine and melt the cheese. Adjust salt and pepper as needed.

Serve immediately.
To make the Garlic Sauce
Heat the olive oil over medium heat in a skillet. Once hot, add the garlic and sauté for 30 seconds until fragrant. Remove from the heat, add the red pepper flakes, Gaby's Go To and lemon zest. Stir to combine