You know those recipes that are near and dear to your heart? The ones that always bring you back to some fun event years ago. Well, Stacked Eggplant Parmesan is one of my favs for that very reason!
Eggplant Parmesan and Chicken Parmesan were the first 2 recipes I ever made! I made them on repeat for WEEKS in college and subjected my tennis teammates to eggplant parmesan dinners for months on end! This was one of the first recipes I ever made for my college boyfriend (now husband) and I can never get enough. I mean, how could you go wrong with breaded eggplant (or chicken) piled high with red sauce, 3 kinds of cheese and fresh basil? It's basically everything I look for in life all baked into one giant skillet.
It's also one of my favorites because sometimes I have a TON of energy and I'll whip up a dish like this for dinner and then can't be bothered to think about dinner the next night. Problem solved with this baby for leftovers. My absolute favorite way to jazz this up for leftovers (and trick Thomas into thinking I made something new) is to take out a few spoonfuls of the eggplant parm, chop it up into bite sized pieces and toss it into some freshly cooked pasta. I mean, if that's not you're new favorite way to get down with leftovers than I don't know what to say.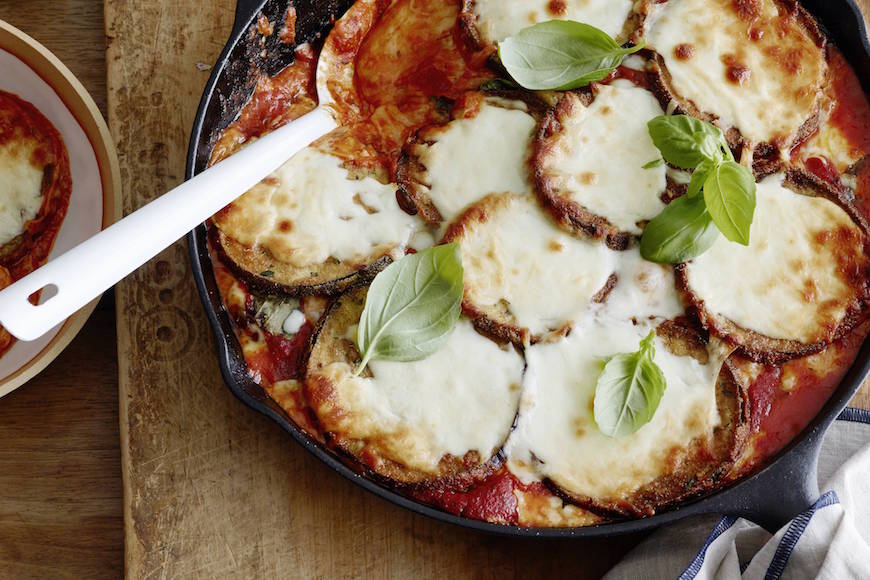 Stacked Eggplant Parmesan
Ingredients
2

jars marinara sauce

2

large eggplant

5

large eggs

3

tablespoons

whole milk

4

cups

Italian-style breadcrumbs

1

tablespoon

dried oregano

1

tablespoon

fresh thyme leaves

Vegetable oil

for frying, as needed, about 1 1/2 to 2 cups

1 1/2

pounds

mozzarella cheese

cut into thin slices

1/2

cup

grated Parmesan

1

pound

fontina cheese

shredded

2

handfuls fresh basil
Instructions
Slice the eggplant into thin slices.

In a medium bowl, whisk together the eggs and milk and set aside. In another bowl, combine the breadcrumbs, oregano and thyme and stir to combine.

Dip the eggplant slices into the egg mixture, making sure to coat both sides. Following the egg mixture, dip the eggplant into the bread crumb herb mixture on both sides.

In a large skillet, add about 1/3 cup of the vegetable oil over medium high heat. Once the oil is hot, add the breaded eggplant slices a few at a time and fry on both sides until golden brown. Once golden, remove from the oil and let rest on a paper towel to drain excess oil. Continue this process with the remaining eggplant slices, making sure to add extra oil if needed.

Preheat oven to 350 degrees F.
To assemble
In a 9 by 13-inch baking dish or large cast iron skillet, spoon about 1/4 of the marinara sauce on the bottom. Top with a layer of the fried eggplant; the eggplant slices can overlap slightly. Top with about 1/3 of the mozzarella slices. Sprinkle with about 1/4 of the Parmesan and fontina cheeses. Top with a layer of torn basil leaves. Spoon sauce and repeat the layering 2 more times to make 3-4 layers. End with the remaining mozzarella. Carefully press the layers down firmly into the dish once assembled. Place the dish in the top part of the oven and cook until the cheese is melted and bubbly, 35 to 40 minutes. For extra browning, put the dish under the broiler for a minute or two just before serving to get an extra brown cheesy top.

Serve with extra basil on top.
Photo by Matt Armendariz / Food Styling by Adam Pearson / Recipe by What's Gaby Cooking