Everyone once in a while, I find myself with a loaf of bread that is just a little bit too hard to eat as is. This doesn't happen frequently because I am a carb fanatic and I'm all about the no carb left behind mentality! But when it does happen, I am a sucker for these Homemade Garlic Croutons.
Making your own croutons is super easy and they are infinitely better than the ones you pick up at the market. You can dress them up however you want, but my preference is to load the croutons up with tons of garlic, oil, butter and of course some kosher salt, pepper and Italian Seasoning and then let them work their magic in the oven. Your entire house will smell perfect. They are the ultimate topping for salads or just a little treat when they are still warm from the oven!
And… if you are feeling even more daring, you can go ahead and stick these delicious little cubes of bread in the food processor and make homemade garlic bread crumbs and then make Chicken Parmesan. omg. Doesn't that sound good? I think I just figured out what I am making for dinner tonight!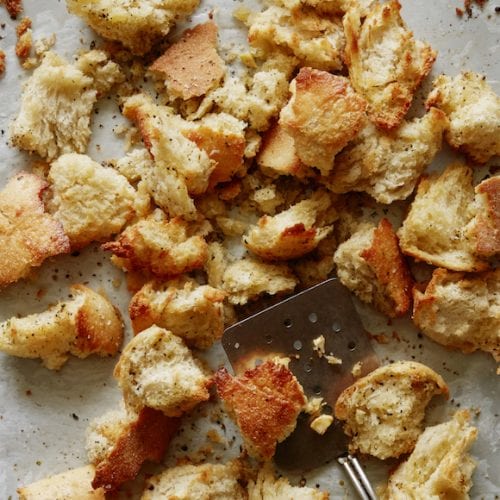 Homemade Garlic Croutons
Ingredients
1

loaf french bread

a few days old

3

tablespoons

olive oil

3

tablespoons

unsalted butter

melted

4

cloves

garlic

chopped

2

teaspoons

kosher salt

1

teaspoon

freshly cracked black pepper

1

teaspoon

Italian seasoning
Instructions
Preheat the oven to 350 degrees F.

Cut the bread into small cubes. Transfer cubed bread to a parchment lined baking sheet.

Drizzle the bread with the olive oil and butter and then sprinkle with garlic, salt, pepper and Italian seasoning.

Using your hands, gently toss the croutons and make sure they are coated with all the oils, butters and seasonings.

Bake for 15-20 minutes until they are golden brown. Remove from oven and let cool before serving.